eToken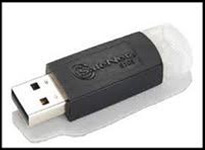 What is eToken? e-Token is hardware device, which is used to store Digital Signatures for security. It is secure device and certified by International standards (FIPS). Certifying Authorities recommends all Digital Certificate subscribers to store their Digital Signature Certificates on e-Tokens. Digital Signature Certificates stored in e-Token can not be copied to any other device. e-Token is hardware mechanism used for password authentication via using identity management technique and provides hacking problem solution to the user. It fits in the USB port of the computer. Besides, it is also very useful where security is must like personal computer or cyber cafe pc. It can be most widely used in accessing E-banking, E-commerce, stock trading, and online data and money transactions tasks.
Benefits
e-Token gives mobility
e-Token ensures that a person is not stuck up with a single computer for its usage. it can be used from remote locations
e-Token ensures that DSC is not lost and hence legal identity over the Internet is maintained.
e-Token protects DSC from viruses and even helps using the DSC for many other purposes.
e-Token is widely being accepted in many online applications across the globe, it will help to access many such applications.
eToken
Installation Guide
Drivers for Windows (32-bit)
Drivers for Windows (64-bit)
Drivers for Linux

Safenet

Aladdin eToken

ePass2003

Gemalto Tokens

Moserbaer Token